National Championship Regatta
Home for all the information you need for the CR-914 National Championship Regattas
Chesapeake Bay Model Racing Association is pleased to invite you to the 2023 National Championship Regatta for the CR-914 presented by Cedar Point Marina and Chesapeake Whalertowne to be hosted at Cedar Point Marina in Grasonville, MD. This event is intended for everyone's enjoyment, from the experienced to the novice. It is the hope of this club that all participants in this annual event will return each year to foster seamanship and sportsmanship.
August 18th – 20th, 2023
Why Attend the Nationals?
There are lots of great reason. Check out this article by Scott Rowland in the CRonicle Issue 43 Page 2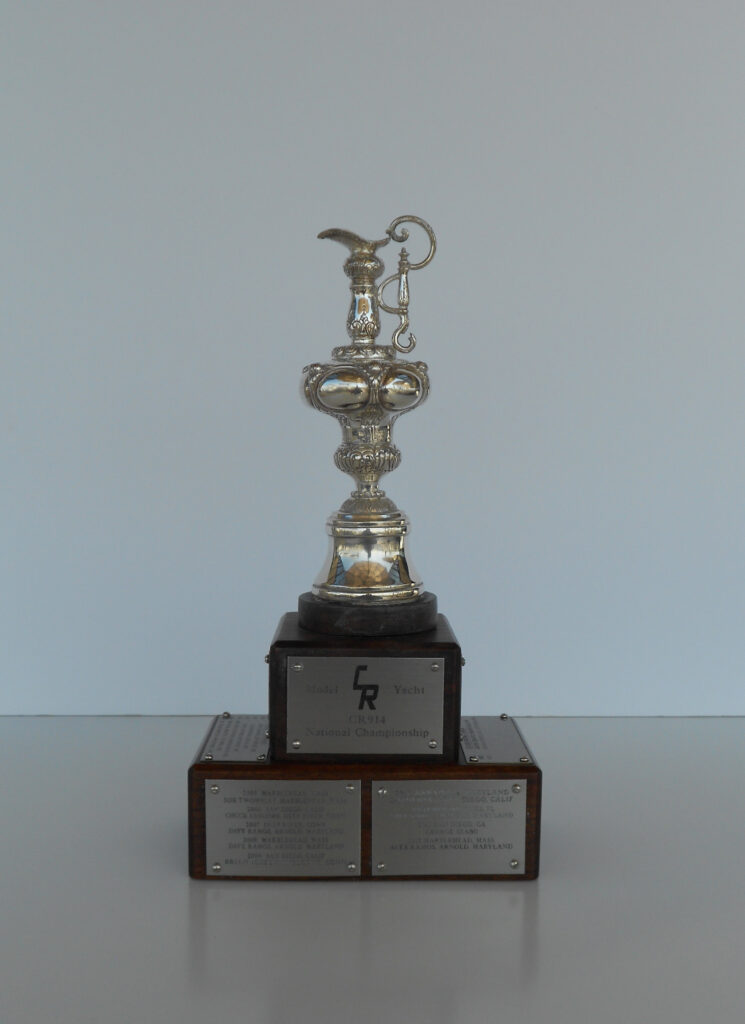 CR-914 National Champions
| CR 914 National Championship Regatta | | | | |
| --- | --- | --- | --- | --- |
| Year | Location | Champion | Sail# | Hometown |
| 1995 | Minneapolis, MN  | Tony Johnson | 77 | Excelsior, MN |
| 1996 | Stowe, VT | Greg Worth | 181 | Marblehead, MA |
| 1997 | Xenia, OH | Kevin Dooley | 97 | Marblehead, MA |
| 1998 | Marblehead, MA | Kevin Dooley | 97 | Marblehead, MA |
| 1999 | Larchmont, NY | Dave Ramos | 238 | Arnold, MD |
| 2000 | Annapolis, MD | David Van Cleef | 737 | Annapolis, MD |
| 2001 | Evergreen, CO | Craig Mackey | 541 | Seattle, WA |
| 2002 | Larchmont, NY | Geoff Becker | 1001 | Annapolis, MD |
| 2003 | San Diego, CA | Geoff Becker | 1001 | Annapolis, MD |
| 2004 | Annapolis, MD | David Van Cleef | 737 | Annapolis, MD |
| 2005 | Marblehead, MA | Bob Twombly | 54 | Marblehead, MA |
| 2006 | San Diego, CA | Chuck Luscomb | 661 | Deep River, CT |
| 2007 | Deep River, CT | Dave Ramos | 238 | Arnold, MD |
| 2008 | Marblehead, MA | Dave Ramos | 238 | Arnold, MD |
| 2009 | San Diego, CA | Brian Jobson | 1386 | Wolcott, CT |
| 2010 | Annapolis, MD | David Ryan | 973 | San Diego, CA |
| 2011 | Pembroke Pines, FL | Dave Ramos | 238 | Arnold, MD |
| 2012 | San Diego, CA | George Szabo | 1700 | San Diego, CA |
| 2013 | Marblehead, MA | Alex Ramos | 1239 | Arnold, MD |
| 2014 | Tulsa, OK | David Ramos | 238 | Arnold, MD |
| 2015 | San Diego, CA | George Szabo | 1700 | San Diego, Ca |
| 2016 | Queenstown, MD | David Ramos | | Arnold, MD |
| 2017 | Tulsa, OK | David Ramos | 238 | Arnold, MD |
| 2018 | Marblehead, MA | David Ramos | 238 | Arnold, MD |
| 2019 | San Diego, CA | George Szabo | 1700 | San Diego, CA |
| 2020 | Queenstown, MD | David Ramos | 238 | Arnold, MD |
| 2021 | Marblehead, MA | David Ramos | 238 | Arnold, MD |